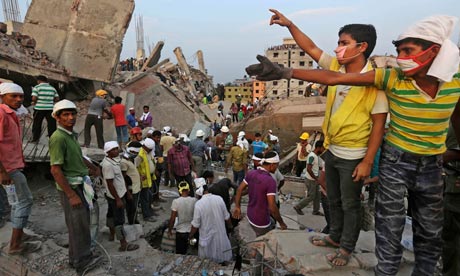 Compare and contrast the following
"Save us brother, I beg you brother. I want to live. It's so painful here. I have two little children"
said Abdul Hossain while
the buyer said "[we are] shocked and deeply saddened".
One is the voice of a victim, Abdul Hossain, who was dead before 6am yesterday.and one is the voice of the buyer who also said it wasn't aware of any problems relating to the structure of the building which collapsed killing in the
region of 360 people
. Mango, Matalan, Bonmarche, and Primark are among the buyers.
Like all of its international suppliers, one of the buyers claimed, the supplier had been subjected to regular checks on health and saftey, working hours and overtime. The buyer knew that while
"there are building regulations in place in Bangladesh but nobody enforces them".
On Tuesday a crack was identified in the wall and the bank staff, who work in the same building, were told not to come into work on the Wednesday. However, factory managers, under the pressure of buyer deadlines, told their workers to work. On the Wednesday many of the factory workers paid a high price for the need to meet the buyer deadlines when the building collapsed.
64 workers in the same town were killed in a similar incident in 2005
.
When you look at it like that maybe it's time for a redefinition of procurement risk management and responsible procurement.