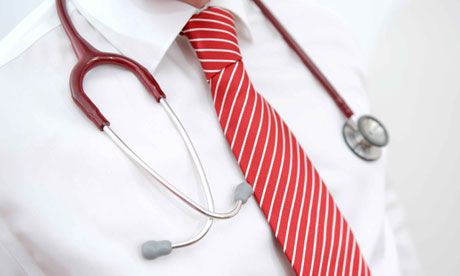 What do you think about the
Health Secretary's plan to expose health consultants who want to opt out of performance tables
?
I'm in favour. In fact I'd go further - I want to understand the outcomes achieved, problems encountered in the operating theatre, proportion of NHS/private work, the proportion of their career spent on my particular area of concern, and, what's more, I want to have the option of seeing that information on an NHS validated webpage or when I am sitting in my GPs surgery discussing a referral. Why? Well, I have had a number of operations which have had complications in theatre, serious infections, and conflicting opinions. I have also been given, what other consultants convinced me was inappropriate treatment and inappropriate advice. I also want to see the cloak of aloofness removed from the consultant so that they also remember I am the focus of their attention.
While I'm on that rant let me share just one of many bad experiences. I waited quite some time for an appointment to see a consultant. I then waited long after my appointment time to be admitted to his inner sanctum. While I was waiting, of course there were the signs prohibiting the use of mobile phones. I was duly informed I could be seen. No sooner was I in the throne room than his mobile phone rang, he said, "excuse me I have to take this call". Believe it or not the call was from his son and they discussed his performance on the rugby pitch. Not that surprisingly the child had more of the consultants time than I had. Did I feel I'd experienced patient centred care?
Thankfully, I have also experienced absolutely world class care. On at least one occasion having to be reassured they had not mistaken me for a private patient.
Remove the cloak of mystery and I can make informed decisions as to whether or not I trust the consultant. Remove the cloak and I can see beyond the hot air. Remove the cloak and I can opt not to go near the poor performers.
Now if we adopted a similar position in public procurement things might change too. We might learn who is in the wrong job, who doesn't implement procurement policy, whether centralised contracts are justified. Let's forget about massaging the data overload and opacity of contracts let. Just let us know which procurement departments achieve agreed objectives. If they don't use the central contracts, just let them tell us why - we can then make an informed judgement as to whether the 'centralised contracts' are at fault or the procurement leads. If we see enough CPOs saying the contracts aren't used because they aren't fit for purpose, then maybe that is useful for reviewing the strategy. If procurement policy initiatives are not being implemented then maybe we have the wrong CPOs. Are we ready for naming, blaming and shaming in public procurement? Perhaps we're content with the cloak of opacity.