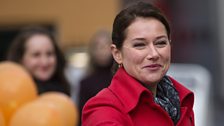 I was really disappointed when I heard, last year, that Borgen, the Danish political drama, had finished.
Borgen
had been some of the best TV I'd seen - compelling viewing and impossible to predict what would happen next.
Borgen was a great example of a successful BBC make/buy appraisal. Auntie just doesn't seem able to produce such a consistently high quality series', so it was a clever to buy from Denmark rather than even attempt to compete by making.
We have all had enough long-running TV series' constructed around regional accents and although I generally have problems with sub-titles that wasn't a problem I had with Borgen. Would it be worth experimenting with subtitles on Eastenders, Coronation Street and Hollyoaks to see if they become more compelling viewing?
Borgen must also have been a tremendous success for the Danish tourist board. I suspect their marketing research now finds that when someone now asks:
"What comes to mind when you think of the word 'Danish'?"
, responses have now moved beyond Danepak, Carlsberg, and pastry to include Borgen. That's a big success and is believed to contribute to the 0.23% increase in the Copenhagen tourist footfall.
So beyond make/buy lessons, what's all that got to do with procurement? As a stroke of genius, CIPS and CCS have entered into a partnership with DUPE (the Danish Unification for Public Procurement Eccord) in commissioning a public procurement training video for politicians based on Borgen. As I understand it, Borgen's central character, Birgitte Nyborg, finds herself faced with calls for her resignation as a result of a scandal involving the CPO and the Danish Chief Secretary to the Treasury.
CIPS' press release states that "the video helps demonstrate the need for a clarity of roles between politicians and officers"
. CIPS also claim that this is a central part of their marketing strategy and is the first of a range of procurement resources using of subtitles due to ease of being able to provide translations. Consistent with that strategy, DUPE have priced for the first and second phases of translations. The first phase of translations are targeted for Belize, Botswana, Kenya, Fiji, Jordan, and Namibia; and the second phase translated for Mauritius, Malta, Nigeria, and the Philippines. It is understood that a recommendation for Cyrillic is being considered by CIPS Congress as part of a wider package of translation of all CIPS resources on public procurement and piloting of CIPS Licence.